Special Orders Are Welcome!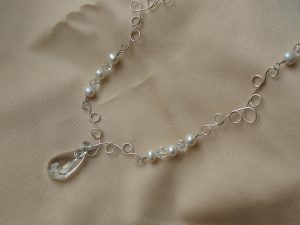 Let me know what you would like and I would be happy to design a special piece of fused glass or jewelry for you! Please note that it is impossible to recreate an item exactly as is shown in a picture due to the nature of the glass in the heating and cooling process. Similarly, the wirework will be similar, but not exact, since wire often has "a mind of its own".
Sample Pictures of Wedding Jewelry I have created are available on request and will be emailed. Details will be arranged at a mutually conveniently time.
Cost of Special Orders will depend upon the materials used, the intricacy of the design, and the time needed to create the piece. A deposit will be taken before the piece is begun.
Refunds on Special Orders will only be given when the made-to-order item has been sold to another client.